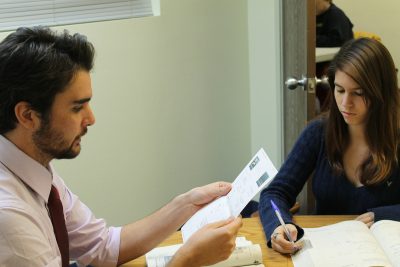 The instability and uncertainty facing the future of education has many parents looking for ways to help their teenagers keep their grades up and plan for the future amid the chaos. The high school years are a crucial time for students who plan to attend college, and with the pandemic causing swift changes to traditional learning environments, it's understandable why parents are looking for resources that will keep their teenagers on track for academic success. 
Many schools are still operating virtually; others are using a hybrid model of online and in-person classes; and some are attempting in-person only, though quite a few schools that have gone the latter route have had to shut down again. With many parents busy and unable to fulfill the homeschooling role suddenly thrown into their already busy lives, the need for tutoring is rising significantly. To many families, this outside help is the key to assuring their students are not left behind due to the "Covid-slide," the term used to describe the learning losses many educators are worried will occur due to the shifting nature of academia. 
If you are considering finding a tutor for your own student, here are a few things to help you make the right decision: 
When Is a Tutor the Right Decision?
Many parents are unsure how to tell when tutoring is the best route for their son or daughter. It's not always as easy as looking at a report card with low marks and deciding some additional assistance could turn things around. Sometimes the indicators are a little more subtle. While it's always beneficial to talk with your teen and his/her teachers before making your decision, you can help assess whether a tutor would be advantageous by noting whether you notice any of the following:
Struggle focusing.

While some focus-related concerns are due to underlying issues that may require more of a therapeutic intervention, often students struggle with focus because they lack organizational skills when studying; they are having issues understanding class concepts; or they are simply distracted by outside forces like social media, especially when completing classes at home without a teacher present. One-on-one tutoring can help your teenager concentrate on one concept at a time, and in addition to going over the material, a good tutor will also help him/her gain solid organizational skills that can be applied to future classes and subjects as well. 
Slipping grades.

Scoring poorly on an assignment or exam once in a while is not necessarily a call for concern. However, if your teenager is consistently bringing home low grades or you start to notice an observable decline compared to how he/she usually performs, bringing a tutor on board can help to identify problem areas and integrate changes to get things back on track. 
Poor test performance.

Some students comprehend class material just fine and have no problem finishing homework assignments. When it comes to taking tests, however, their knowledge of the material does not always translate. Reputable tutors integrate test-taking strategies into their lesson plans by addressing test anxiety reduction measures and

psychology-based study habits

that promote higher exam scores. In addition to benefiting the student immediately, these tactics will help with the

SAT/ACT

and future college tests as well.  
A willingness to get ahead.

Tutors are not only beneficial when there is an issue to address. They can also serve as a tool for ambitious students who want to work ahead and master advanced concepts, improve their test-taking abilities to

prepare for the SAT/ACT

or other college entrance exams, or master proven study strategies, all of which can supply them with an academic edge now and in the future. 
Is the Tutor Well-Versed in the Subjects Your Teenager Needs Help With?
If your teenager is struggling in a certain subject, it's important that you look for a tutor who is qualified to help in that specific area. This may sound like an obvious point, but a tutor who excels in making English-related concepts clear may not be able to assist with chemistry. Similarly, others who focus on core subjects like math, writing, and science may not be the best choice for someone who is struggling in an elective, such as a foreign language class. Taking the time to vet a tutor's experience in helping other students with similar material can help you assess whether or not that person is the most efficient option for getting your student up to speed. Whether you're going with a private tutor from a credible agency or one who works as an independent contractor, taking time to ask about his/her background, reading online reviews, and asking for references can be a big help in making the right choice. 
How Do the Tutoring Sessions Operate?
When deciding which tutor would be the best fit for you son or daughter, it helps to gain a detailed overview of how the sessions actually operate and how progress is measured. 
It's important to ask questions, such as:
If seeking online tutoring sessions, how would the tutor make the sessions engaging?

When material is already confusing to someone, it helps to ask what efforts will be made to help your student stay focused and interested. Student engagement helps ensure that your teenager will retain the knowledge learned in sessions so that he/she is able to apply it in outside settings. 

What kind of effort would be made to ensure there is a solid connection between the tutor and student?

The relationship between a student and a tutor can be a big contributing factor to whether or not the sessions are successful. Try to find someone who will make your son or daughter feel comfortable and supported. 
Does the tutor assign homework in between sessions or mainly focus on lessons relating to school work assigned by the student's teachers?

If homework is assigned between sessions, it's important to clarify how the tutor designs it to harmonize with school work rather than distract and overwhelm your student with an even larger work stack.
Does the tutor consistently communicate with the parents to update them on any concerns or milestones?

It is important to set expectations from the start about what updates will look like and how they will be communicated to you. 
How is progress measured?

While higher test scores and improved grades are the obvious standards to measure success, those often become apparent down the road. Ask the tutor what metrics he/she uses to track intermediate progress. Additionally, you can look for observable signs of progress yourself, such as less avoidance when starting projects, more overall confidence going to school, stronger organizational skills and time management when studying, etc. 
Are there flexible scheduling options?

With many areas of life moving online, traditional school days and typical 9-5s are not as ubiquitous as they once were. It's important that your tutor can meet with your student at a time that does not interfere with other obligations.
Closing Up
At the end of the day, tutoring can be an excellent lifeline for any parent who wants to help their student understand confusing material, improve focus and organizational skills, learn valuable test-taking strategies, or get ahead of the curve by mastering advanced concepts. Hopefully this information helps to simplify your search so that you are able to find a reputable tutor who genuinely cares about helping your teenager excel academically now and in the future. It's a noble effort to go above and beyond to ensure your son or daughter has the tools to succeed in life, and when you pair a proactive parent with the support of a trusted tutor, there is no reason to doubt that your teen has anything but a bright and successful future ahead. 
Our Online Academic Tutoring Can Help Your Student Stay on Track!
CollegeDrive's online academic tutoring sessions involve one-on-one instruction with caring experts who go above and beyond to ensure their students improve their overall understanding of the major subjects, including various levels of math, science, and English or reading. Whether your student needs help improving grades, wants to get ahead academically, is looking for SAT/ACT test prep, or needs help planning for the college admissions process, our team is here to help! Please get in touch with any questions you have. We look forward to hearing about how we can help with your student's goals.